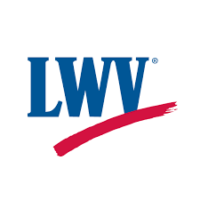 League of Women Voters of the Charlottesville Area
"The League of Women Voters, a nonpartisan political organization, encourages informed and active participation in government, works to increase understanding of major public policy issues, and influences public policy through education and advocacy."
Natural Resources Committee
The Natural Resources Committee monitors and speaks out on local environmental issues as stated in the LWV CVA Local Positions (2017-18).
Our focus for 2017-2018 will continue to be on water resources, development and growth, and solid waste. The following letter was sent by President Kerin Yates to the Albemarle County Board of Supervisors: October 10, 2017 To the Albemarle County Board of Supervisors and David Hannah, Albemarle County Natural Resources Manager:
The League of Women Voters of the Charlottesville Area has a long-standing policy to advocate for protection of water resources and water quality. Stream buffers are very important to maintaining clean and healthy water, thus we are writing to encourage you to strengthen the County's stream buffer protections. We request that you clarify stream buffer provisions which may be misunderstood or misapplied, eliminate damaging loopholes, and consider what measures are needed to strengthen enforcement of our existing stream buffer protection requirements.
Because we are aware that the Board is concurrently updating its climate action plan, we request that you take climate change effects into account as you consider stream buffer protections. Climate change is making heavy precipitation events more common. Hurricane Harvey brought rainfall totals of more than 50 inches to the Houston area this September, demonstrating the need for communities to prepare for the possibility of unprecedented rainfalls. Stream buffers should be maintained and enforced not only to protect water quality, but also to reduce flooding and erosion in the event of extremely heavy rainfalls.
Thank you very much for the opportunity to offer comment on Albemarle's stream buffer regulations.
Sincerely, Kerin Yates, President, The League of Women Voters of the Charlottesville Area, 1932 Arlington Boulevard Suite 111, Charlottesville, VA 22903-1560
Water resources: In monitoring the implementation of the Community Water Supply Plan, we will be following development of the South Fork Reservoir – Ragged Mountain Reservoir pipeline, the county's review of the Water Protection Ordinance stream buffer requirements, and water conservation activities.
Sustainable development and growth: Continue our support for the county's growth management policies, including maintaining strong development area boundaries and ensuring public water and sewer service is extended beyond the development areas boundaries only when public health or safety is endangered.
Sustainable Materials (Solid Waste) Management: Support county efforts to efficiently and effectively use disposed materials as a resource that will contribute to economic development. This should include hiring a recycling manager and working cooperatively with the city and university to make the best use of all materials in the solid waste stream.
We will also monitor the county Natural Resources Strategic Plan and follow its relationship to the Comprehensive Plan.
From our archived materials, please note these early LWV CVA Natural Resource Committee resources:
We support the 50-year Local Water Supply Plan. Key Elements of the Plan are:
Replace the existing unsafe Ragged Mountain dam with a new dam and raise the reservoir pool level initially by 30 feet and to a total of 42 feet as demand requires.
Replace the 85-year old Sugar Hollow Pipeline with a newer, shorter pipeline connecting the South Fork Rivanna Reservoir with the Ragged Mountain Reservoir and the two corresponding treatment plants. Can be used to transfer water from South Fork to Ragged Mountain during wet periods or from Ragged Mountain back to the larger South Fork Treatment Plant during dry periods.
Upgrade and expand water treatment plants.
Provide enough water storage to get us through drought for the next 50 years.
Four documents are presented here in support of this plan:
For further information, email: Liz Palmer
With funds from the LWV Education Fund, the NR Committee has three current publications:
The Natural Resources Committee holds monthly meetings on the third Wednesday of the month, at 1:30 pm. For further information about this committee, email: Peggy Gilges
League of Women Voters
of the Charlottesville Area
Mailing Address:
PO Box 2786
Charlottesville, VA  22902
Email:  lwv@lwv-cva.org
© 2020 LWV CVA. All Rights Reserved.
The League of Women Voters never supports or opposes candidates for office, or political parties, and any use of the League of Women Voters name in campaign advertising or literature has not been authorized by the League.