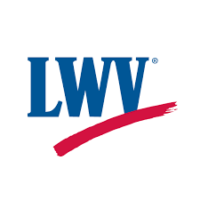 League of Women Voters of the Charlottesville Area
"The League of Women Voters encourages informed and active participation in government, works to increase understanding of major public policy issues, and influences public policy through education and advocacy."
LWV CVA Gun Violence Prevention
Maggie Hoover and Beth Alley, Co-Chairs
Organized in 2019, this committee is a local adjunct of the LWV of Virginia's Gun Violence Prevention.  The goal of the committee is to support sensible firearm legislation by educating our community on the prevalence of gun violence and the need for safe storage of firearms by sponsoring community forums and tabling events, lobbying our local and state legislators for firearmssafety legislation; and working with other groups such as Charlottesville Coalition for Gun Violence Prevention.  This committee does not have regular business meetings but shares information primarily through emails and the newsletter, but it does have regular opportunities for members to participate in
actual advocacy. All are welcome and participation can be varied. Members who are interested or would like to learn more about this crucial topic. Please contact Maggie Hoover by email: maggie.hoover@gmail.com. Or Beth Alley at
beth.alley@gmail.com. Or at 434-996-8075
As presented in the 2023 LWV CVA Annual Meeting packet, here is the 2022-23
report of the Gun Violence Prevention Report by Maggie Hoover and Beth Alley
The Gun Violence Prevention Committee has again been active this year participating on issues primarily on a local and state level. Locally, Albemarle County had a request for a permit to have a "Major Home Occupation" business for the purpose of creating/making, altering, and storing firearms for their customers. We and our coalition partners sprang into action letting our supervisors know that we were opposed to the existence of such a home occupancy business. In conjunction with our coalition partners, we reached out to school board superintendents in
many of our area schools and requested that literature with guidance for effective ways to promote gun safety be disseminated among their school communities. One example of community outreach was a community wide forum for residents of Charlottesville and Albemarle County that involved both school systems, gun prevention activists, and law enforcement. In addition, along with our coalition partners, we again held our Just Ask Day event on June 18 and our December Vigil for Sandy Hook and other victims of gun violence.
On a state level we were in a defensive role as advocates, fearful of losing our hard-won gains from the prior years following the November election. To this end we sent out petitions to all our local representatives requesting they safe guard law 15-2-915, that allows communities to
determine for themselves if they want to ban guns from their buildings, parks, community centers and special eventsOn a state level we are extremely fortunate to have Jeanne Hanewich as our new LWV leader in Richmond. She is filling big shoes left by Ruth Hoffman and we are enthusiastic to have her leadership. There was little change in legislation this year with only one bill being passed that had bi-partisan support for tax rebates for in-home safe gun storage. Our committee again participated in the 31 th GVP Martin Luther King's Day Vigil. We were
especially enthusiastic to be back in person and to be able to go down by bus to the Capital where we joined with thousands of other advocates from across the state to let our voices be heard.
Some of examples of our committee's activities on an educational front included attending meetings with LWV-USA and LWV-VA-GVP, following updates and attending webinars from North Virginia's Brady Campaign, attending educational training from Johns Hopkins Center for Gun Violence Solutions, and sharing current articles from multiple news sources.We look forward to continuing to educate ourselves, our members, and the public at large on ways to keep all Virginians safer.
League of Women Voters
of the Charlottesville Area
Mailing Address:
PO Box 2786
Charlottesville, VA  22902
Email:  lwv@lwv-cva.org
© 2023 LWV CVA. All Rights Reserved.
The League of Women Voters never supports or opposes candidates for office, or political parties, and any use of the League of Women Voters name in campaign advertising or literature has not been authorized by the League.