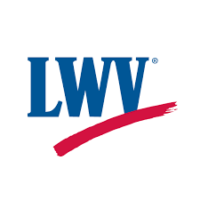 League of Women Voters of the Charlottesville Area
"The League of Women Voters encourages informed and active participation in government, works to increase understanding of major public policy issues, and influences public policy through education and advocacy."
The 2023 Elections! Every 4 years all State Senator and State Delegate seats in the Virginia General Assembly are up for election. The 2023 General Election winners will decide for you on the issues that affect you and your family,  ONLY CITIZENS WHO VOTE determine who wins races. Make sure you're one of them.  Vote flyer!

For general information about voter registration and elections, go to Department of Elections website, www.elections.virginia.gov (or call 804 864-8901 or 800 552-9745, 8 am to 5 pm weekdays.) The website allows you to:  register to vote; check your current voter registration and precinct where you will vote; and apply for an absentee ballot online.
Redistricting for the 2020 decade means voters in the Charlottesville area (City of Charlottesville, Albemarle County, Nelson County, Greene County, Louisa County, and Fluvanna County) have new Virginia Senate and House of Delegates districts.  Redistricting maps can be accessed by clicking here.
You can check for all information about the upcoming the November 2023 elections by going to your local city or county registrar's office.  Click on

City of Charlottesville Voter Registration and Elections
Albemarle County Voter Registration and Elections
Fluvanna County Registrar
Greene County Registrar
Louisa County Voter Registration
Nelson County Registrar
Are You a registered voter in the State of Virginia?  You can check your voter registration status by going to:  https://www.elections.virginia.gov/  Or call the Virginia Department of Elections at (800) 552-9745.  Or call the office of your local Registrar.  Phone Numbers for area registrars:
City of Charlottesville – 434 970 3250
Albemarle County – 434 972 4173
Fluvanna County – 434 589 3593
Greene County – 434 985 5213
Louisa County – 540 967 3427
Nelson County – 434 263 7190
Absentee Voting:  :
Most voters may submit an absentee ballot application online by going directly to the Department of Elections website:  www.elections.virginia.gov (or call 804 864-8901 or 800 552-9745, 8 am to 5 pm weekdays). Registrars will also accept applications via regular mail and email:  see links above to contact your local Registrar.

Please note that your ballot no longer needs to be observed and signed by a witness.

Remember, for all information about voting in Virginia elections, go to Department of Elections website, www.elections.virginia.gov (or call 804 864-8901 or 800 552-9745, 8 am to 5 pm weekdays.) You may also go the League of Women Voters website: vote411.org
VOTING AND ELECTION NEWS:  Lauren Eddy to become new General Registrar for Albemarle County.  The Albemarle County Electoral Board selected the current Deputy Registrar, Lauren E. Eddy, to become the new General Registrar and Director of Elections to fill the remainder of the term of General Registrar Richard "Jake" Washburne, who is retiring on July 31.
"We are fortunate to have someone with Lauren's extensive experience and familiarity with Albemarle County elections to take the reins from Jake Washburne," said Nancy Muir, the Chair of the Electoral Board.
"I can't think of anyone more qualified than Lauren to take on this role," said Jake Washburne.
Eddy has served as the Deputy Registrar for 15 of the 17 years she has worked with the Albemarle Voter Registration and Elections Office. In that role, Eddy has managed the daily operations of the voter registration and elections office, worked extensively with Registrars' offices across the Commonwealth, and helped implement the recent changes in early in-person voting and no-excuse voting by mail. A native of Albemarle County, Eddy is a Virginia Registered Election Official and a National Certified Elections/Registration Administrator.
"As a life-long resident of Albemarle County, I take great pride in my service to the citizens of Albemarle and look forward to serving them in this new role," said Eddy.
"Voting Security" is a hot topic during election season. Now with 24-hour news cycles and social media, information relayed to the public can be founded or unfounded or just plain false.  How can voters tell what goes on in their city or county to make sure all ballots are counted securely and carefully?
To help us understand voting security, LWV CVA held a Sunday Seminar on September 12, 2021, in Central Library, Charlottesville.  We invited two speakers who are election officials from Albemarle County and Charlottesville City to describe to us what the voting process actually entails.  Jake Washburne, General Registrar of Voters, Albemarle County, has been the County Registrar for over 15 years, and is responsible for implementing requirements of state and federal voter registration and elections law for 71,000+ registered voters, voting in the 28 County voting precincts.  Taylor Yowell is Acting Director of Elections and General Registrar for the City of Charlottesville and serves the city's approximately 34,000 voters in four wards with nine voting precincts.  Both registrars will show us what voting security looks like in their jurisdictions from registration to counting of ballots.
We are delighted to present here an audio recording of this event with many thanks to Sean Tubbs (seantubbs@gmail.com) who kindly provided this link.  Please click on:

https://soundcloud.com/sean-tubbs/20210912-lwvlwv-cva-sunday-seminar-safe-and-secure-ballots-what-voters-need-to-know
League of Women Voters
of the Charlottesville Area
Mailing Address:
PO Box 2786
Charlottesville, VA  22902
Email:  lwv@lwv-cva.org
© 2023 LWV CVA. All Rights Reserved.
The League of Women Voters never supports or opposes candidates for office, or political parties, and any use of the League of Women Voters name in campaign advertising or literature has not been authorized by the League.