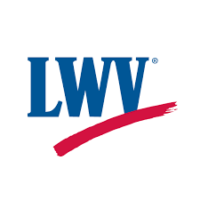 League of Women Voters of the Charlottesville Area
"The League of Women Voters encourages informed and active participation in government, works to increase understanding of major public policy issues, and influences public policy through education and advocacy."
Legislative Information
The links below provide on-line bill tracking as well as access to state and federal legislatures. For example, you can check what's currently on the House of Representatives floor, access the laws of the United States, find a bill, amendment or debate, or find vote information by going to the U.S. House website below.  Further in this article is information about LWV-VA's WLRT (Women's Legislative Roundtable) with dates and registration information for 2022.
On-line Bill Tracking
For up-to-date information about the 2022 Legislative session, including finding committee members, or the budget, go to Virginia Legislature Information System
To track bills at the federal level, go to The Library of Congress THOMAS
Other Legislative Resources
For information about the Virginia General Assembly, go to Virginia General Assembly
For information about the U.S. Senate, go to United States Senate
For information about the U.S. House of Representatives, go to United States House of Representatives
2022 Virginia Legislative Session:  The General Assembly session for 2022 begins on Wednesday, January 12, and runs for 60 days. On December 1, 2021, the League of Women Voters of Virginia held a "Pre-Session Roundtable" to review the potential challenges and opportunities in legislation this session.  A video recording of this meeting can be found at:  https://youtu.be/0BEtaY9MW1E
On Wednesdays during the GA Session, the League hosts an hour-long morning briefing by Legislators and/or Advocacy/Issue groups (WLRT Women's Legislative Roundtable Meetings). Thus, we get updates on legislation throughout the Session so that our advocacy messages are very timely. League members can attend on Wednesdays by virtual zoom registration.  Go to the WLRT page on the LWV-VA website:  https://lwv-va.org/womens-legislative-round-table/
To learn more about the Roundtable, read LWV-VA's brochure.
2022 WLRT – Schedule:  Note that WLRT meetings will be hybrid–in-person and virtual.
Virginia Legislative Session Begins: January 12, 2022.
Every year during the General Assembly session, LWV-VA provides a nonpartisan forum open to the public on Wednesdays, 8:30-9:30 a.m., to discuss and share information on issues and legislation. 
Legislators are invited to discuss bills they are sponsoring and answer questions. Leaders of nonprofit groups share their priority issues. LWV-VA lobbyists and Issue Group Leaders give updates on LWV-VA priority issues.
This year, you can attend in person or virtually. In-person meetings will be held at the Tidewater Room in the SunTrust Center, 919 East Main Street, Richmond. Proof of Covid-19 vaccination is required for entry.
Click here to register to attend in person or virtually.
Local League presidents will be setting up meetings with members of the General Assembly for League Day. Contact your local League president to join one of these meetings. When you RSVP you will have a choice to mark how you will attend. We hope to see you in whatever form is easiest for you but an in-person visit makes the biggest impact.
2022 WLRT Schedule*
Forums are Wednesdays, 8:30-9:30 a.m. To view past 2022 WLRTs, click on the link(s) below.
Jan. 12 – Automatic Restoration of Returning Citizens Voting Rights
Jan. 19 – Absentee Ballots Witness requirement  removal
Jan. 26 – League Day, 8:30-noon
Feb. 2 –  Vouchers and Tuition Tax Credits to Private Schools: "Portability of Funds diverted from Public Schools to Private Schools".
Feb. 9 – Child Protection
Feb. 16 – Money in Politics: Reform
Feb. 23 – Dark Money: Honest Ads
Mar. 2 – Floods: Full Disclosure of Flood Zones
Mar. 9 – Final Legislative Push
*Please note that topics are subject to change.
League of Women Voters
of the Charlottesville Area
Mailing Address:
PO Box 2786
Charlottesville, VA  22902
Email:  lwv@lwv-cva.org
© 2023 LWV CVA. All Rights Reserved.
The League of Women Voters never supports or opposes candidates for office, or political parties, and any use of the League of Women Voters name in campaign advertising or literature has not been authorized by the League.