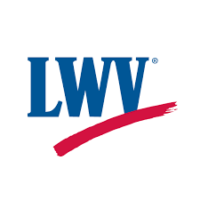 League of Women Voters of the Charlottesville Area
"The League of Women Voters, a nonpartisan political organization, encourages informed and active participation in government, works to increase understanding of major public policy issues, and influences public policy through education and advocacy."
Legislative Information
The links below provide on-line bill tracking as well as access to state and federal legislatures. For example, you can check what's currently on the House of Representatives floor, access the laws of the United States, find a bill, amendment or debate, or find vote information by going to the U.S. House website below.
2020 Virginia Legislative Session:  The General Assembly session for 2020 begins on Wednesday, January 8, and runs for 46 days. On December 4, 2019, the League of Women Voters of Virginia will hold a "Pre-Session Roundtable" to review the potential challenges and opportunities in legislation this session.
On Wednesdays during the GA Session, the League hosts an hour-long morning briefing by Legislators and/or Advocacy/Issue groups (WLRT Women's Legislative Roundtable Meetings). Thus, we get updates on legislation throughout the Session so that our advocacy messages are very timely. League members who attend on Wednesdays arrange to visit their legislators and committee meetings and floor sessions.
To learn more about the Roundtable, read LWV-VA's brochure.
2020 WLRT – Richmond Schedule:
Virginia Legislative Session Begins: January 8th, 2020
Women's Legislative Roundtables – 8 am to 10 am (Richmond location TBA)
January 15, 2020
January 22, 2020
January 29, 2020
February 5, 2020
February 19, 2020
February 26, 2020
March 4, 2020
LEAGUE DAY – February 12, 2020, Richmond: 8 am – 10 am – Legislative Briefing. 12 noon to 2 pm – LWV 100th Birthday Celebration Luncheon
On-line Bill Tracking
For up-to-date information about the upcoming 2020 Legislative session, including finding committee members, or the budget, go to Virginia Legislature Information System
To track bills at the federal level, go to The Library of Congress THOMAS
Other Legislative Resources
For information about the Virginia General Assembly, go to Virginia General Assembly
For information about the U.S. Senate, go to United States Senate
For information about the U.S. House of Representatives, go to United States House of Representatives
League of Women Voters
of the Charlottesville Area
Mailing Address:
PO Box 2786
Charlottesville, VA  22902
Email:  lwv@lwv-cva.org
© 2020 LWV CVA. All Rights Reserved.
The League of Women Voters never supports or opposes candidates for office, or political parties, and any use of the League of Women Voters name in campaign advertising or literature has not been authorized by the League.