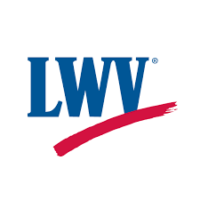 League of Women Voters of the Charlottesville Area
"The League of Women Voters, a nonpartisan political organization, encourages informed and active participation in government, works to increase understanding of major public policy issues, and influences public policy through education and advocacy."
LWV CVA Justice Reform Committee
Organized in 2019, the LWV CVA Justice Reform Committee meets monthly (now zoom meetings) to study how the incarceration systems in Virginia work, especially at the front end in the five-county area served by the LWV CVA. In 2020, the Committee looks forward to contributing to a co-ordinated plan to overcome default incarceration with constructive community alternatives that can serve as the pathway to treatment, job training, employment and childcare. It can happen here–it has elsewhere.
The Justice Reform Committee draws from extensive research and experiences of other jurisdictions to impact process and legislation, as well as teaming up with LWV justice committees throughout the state and the Covid-19 Justice Coalition, to carry louder voices to the House of Delegates and State Senate. Interested? The committee next meets by Zoom. For more information, contact Kit Murphy McNally, murphymcnally@gmail.com.
The LWV CVA August 16 Sunday Seminar Zoomed in on Hometown Justice! Debuting on Zoom for the first time in LWV CVA Sunday Seminar history, the program proved especially appropriate for highlighting the data meticulously collected and analyzed by Neal Goodloe, Criminal Justice Planner for the Jefferson Area Community Criminal Justice Board. It also enabled participants to visit "Georgia's House" founded by Dorothy Tomkins, MD. Links to Goodloe's graphs and the short video on Georga's are available on this YouTube link: https://www.youtube.com/watch?v=45enrPEqECE
Here is a summary of the Seminar:
Not all the news was not good. The number of women jailed on felony drug charges has risen twice as fast as for men over the last 10 years at the Charlottesville and Central Virginia Regional Jails. That fact stood out among many demonstrating some positive trends during a slide presentation by Goodloe. Goodloe's research underscored the disparity in incarceration between men and women, but also the disparity created by more rural areas with presumably less social services and opportunities for legitimate employment than the more urban Charlottesville/Albemarle area. Untreated drug addiction, mental illness, unemployment and poverty come down hard on women in more rural areas.
Though much more funding for intervention is critical, the good news is that alternatives for women do work, illustrated at the seminar by the founder of Georgia's House. This downtown house has proven a highly successful alternative to jail for up to 12 women — and one cat — at a time. Sobriety, self-sufficiency, and shared development of healthy life skills enable the women to find employment and become self sufficient, bypassing incarceration. Presenting at the Seminar, Georgia's founder, Dorothy Tomkins, illustrated the success of Georgia's in a short video featuring some of the women themselves talking about the program and what it has meant to them. Tomkins is also member of the LWV-CVA Justice Reform committee which seeks to study and expand local alternatives to incarceration for women. For a virtual tour of Georgia's House go to https://www.georgiasfriends.org/
As for the local justice system overall, Goodloe's conclusions:
• Violent and property crime has fallen. Jail populations have not.
• Women are taking up a greater percentage of jail bed days than they were 10 years ago.
• Felony drug charges and felony probation violations are significant drivers of this phenomenon.
• Women in jails are significantly more likely to meet the screening criteria for serious mental illness.
• The impact of COVID-19 is yet to be fully appreciated.
Early indicators suggest that the population of women at Albemarle-Charlottesville Regional Jail (ACRJ) is rebounding faster than among men. Jurisdictions across the country have tested and implemented an array of effective alternatives for individuals who, at root, need help not jail. Getting such assistance into less populated areas is difficult but not impossible. Innovative actions elsewhere show promise. Incarceration in jail is often the first stop to prison and it can cost women their children, homes and future employment.
Click here for a YouTube video of this event: https://www.youtube.com/watch?v=45enrPEqECE
League of Women Voters
of the Charlottesville Area
Mailing Address:
PO Box 2786
Charlottesville, VA  22902
Email:  lwv@lwv-cva.org
© 2021 LWV CVA. All Rights Reserved.
The League of Women Voters never supports or opposes candidates for office, or political parties, and any use of the League of Women Voters name in campaign advertising or literature has not been authorized by the League.