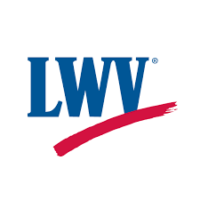 League of Women Voters of the Charlottesville Area
"The League of Women Voters encourages informed and active participation in government, works to increase understanding of major public policy issues, and influences public policy through education and advocacy."
LWV CVA Justice Reform Committee
Organized in 2019, the LWV CVA Justice Reform Committee meets monthly (now zoom meetings) to study how the incarceration systems in Virginia work, especially at the front end in the five-county area served by the LWV CVA. In 2020, the Committee looks forward to contributing to a co-ordinated plan to overcome default incarceration with constructive community alternatives that can serve as the pathway to treatment, job training, employment and childcare. It can happen here–it has elsewhere.
The Justice Reform Committee draws from extensive research and experiences of other jurisdictions to impact process and legislation, as well as teaming up with LWV justice committees throughout the state and the Covid-19 Justice Coalition, to carry louder voices to the House of Delegates and State Senate. Interested? The committee meets monthly by Zoom. On November 12, 2021, the Committee met with Neal Goodloe, Criminal Justice Planner, Thomas Jefferson Community Criminal Justice Board.  Mr. Goodloe presented statistical data on many facets of the incarceration rates in the two regional jails over the past dozen years.  His research led to a discussion into what programs might be possible and beneficial for this area.  Here is the recording link:  https://youtu.be/1bee-aAoDBM
Below are summaries of two earlier Sunday Seminars hosted by the LWV CVA Justice Reform Committee in the 2020-21 fiscal year.  For more information, contact Kit Murphy McNally, murphymcnally@gmail.com.
A Sunday Seminar, "Women in Prison:  A Problem NOT a Solution" was held on April 18 featuring a Panel Discussion with
National Perspective:   Aleks Kajstura, Legal Director, Prison Policy Initiative, and  Author of Women's Mass Incarceration:  The Whole Pie
Virginia Perspective:  Claire Guthrie Gastanaga, Executive Director, ACLU of Virginia; Virginia response to Kajstura's study:  Women in the Criminal Justice System
Local Perspective:  Areshini Pather, Deputy Commonwealth Attorney
To view this event:  click on https://youtu.be/7G22oNoob7Y
Keeping women out of Virginia's jails and prison should not be hard, all things considered. But all things are often neither considered nor supported. That's one quixotic situation members of the LWV CVA Justice Reform Committee were challenged with as they planned the League's April 18 Sunday Seminar.  In search of deeper understanding and momentum for systemic change, the seminar will draw together influential national, state and local justice advocates to underscore the reality of women caught up in the criminal justice system.
Aleks Kajstura's research produced Women's Mass Incarceration: The Whole Pie, a troubling study of 231,000 women and girls incarcerated in the US. In tandem, the Virginia ACLU led by Claire Guthrie Gastanaga launched Women in the Criminal Justice System focused on Virginia. In Charlottesville, Deputy Commonwealth Attorney Areshini Pather, formerly a public defender, knows firsthand the anguish sentencing brings down on women and their families.
When 73% of women in conflict with the law are incarcerated for nonviolent offenses, why are they in jail instead of restorative community alternatives? What's needed in the realm of law, community services, treatment, support and funding to keep at-risk women safely and restoratively in the community with their families. In Charlottesville there are services and alternatives to incarceration for women, but apparently not enough are readily available to engage all women at risk. In the surrounding counties which are members of the Charlottesville Area League, options appear fewer.
The ACLU report notes: The over-incarceration of women is a symptom of a complex network of social barriers, economic inequality, reproductive injustice, and racial and sexual discrimination deeply woven into our society.
The targeted focus on justice reform and groundbreaking action in the special legislative session in Richmond, invites communities to look more deeply at Virginia's local justice systems with thoughts on reform. The panel for the Sunday Seminar will aim to do just that. Join us for this important discussion.
To view this event:  click on https://youtu.be/7G22oNoob7Y
Selected links cited by speakers:
Aleks Kajstura
https://www.prisonpolicy.org/reports/pie2019women.html
https://www.prisonpolicy.org/staff.html
https://www.prisonpolicy.org/zones/
https://www.prisonersofthecensus.org/ma/towns.html
https://www.prisonpolicy.org/global/women/2018.html
https://www.linkedin.com/in/kajstura/
Claire Guthrie Gastanga
https://www.aclu.org/news/by/claire-guthrie-gastanaga/
https://www.vpap.org/lobbying/lobbyist/9424-claire-guthrie-gastanaga/
https://www.c-span.org/person/?clairegastanaga
https://www.styleweekly.com/author/claire-guthrie-gastanaga
https://www.insidehighered.com/quicktakes/2017/10/05/aclu-speaker-shouted-down-william-mary
Aresthini Pather:
https://www.law.virginia.edu/uvalawyer/article/seeking-justice-victims
The LWV CVA August 16 Sunday Seminar Zoomed in on Hometown Justice! Debuting on Zoom for the first time in LWV CVA Sunday Seminar history, the program proved especially appropriate for highlighting the data meticulously collected and analyzed by Neal Goodloe, Criminal Justice Planner for the Jefferson Area Community Criminal Justice Board. It also enabled participants to visit "Georgia's House" founded by Dorothy Tomkins, MD. Links to Goodloe's graphs and the short video on Georga's are available on this YouTube link: https://www.youtube.com/watch?v=45enrPEqECE
Here is a summary of the Seminar:
Not all the news was not good. The number of women jailed on felony drug charges has risen twice as fast as for men over the last 10 years at the Charlottesville and Central Virginia Regional Jails. That fact stood out among many demonstrating some positive trends during a slide presentation by Goodloe. Goodloe's research underscored the disparity in incarceration between men and women, but also the disparity created by more rural areas with presumably less social services and opportunities for legitimate employment than the more urban Charlottesville/Albemarle area. Untreated drug addiction, mental illness, unemployment and poverty come down hard on women in more rural areas.
Though much more funding for intervention is critical, the good news is that alternatives for women do work, illustrated at the seminar by the founder of Georgia's House. This downtown house has proven a highly successful alternative to jail for up to 12 women — and one cat — at a time. Sobriety, self-sufficiency, and shared development of healthy life skills enable the women to find employment and become self sufficient, bypassing incarceration. Presenting at the Seminar, Georgia's founder, Dorothy Tomkins, illustrated the success of Georgia's in a short video featuring some of the women themselves talking about the program and what it has meant to them. Tomkins is also member of the LWV-CVA Justice Reform committee which seeks to study and expand local alternatives to incarceration for women. For a virtual tour of Georgia's House go to https://www.georgiasfriends.org/
As for the local justice system overall, Goodloe's conclusions:
• Violent and property crime has fallen. Jail populations have not.
• Women are taking up a greater percentage of jail bed days than they were 10 years ago.
• Felony drug charges and felony probation violations are significant drivers of this phenomenon.
• Women in jails are significantly more likely to meet the screening criteria for serious mental illness.
• The impact of COVID-19 is yet to be fully appreciated.
Early indicators suggest that the population of women at Albemarle-Charlottesville Regional Jail (ACRJ) is rebounding faster than among men. Jurisdictions across the country have tested and implemented an array of effective alternatives for individuals who, at root, need help not jail. Getting such assistance into less populated areas is difficult but not impossible. Innovative actions elsewhere show promise. Incarceration in jail is often the first stop to prison and it can cost women their children, homes and future employment.
Click here for a YouTube video of this event: https://www.youtube.com/watch?v=45enrPEqECE
League of Women Voters
of the Charlottesville Area
Mailing Address:
PO Box 2786
Charlottesville, VA  22902
Email:  lwv@lwv-cva.org
© 2023 LWV CVA. All Rights Reserved.
The League of Women Voters never supports or opposes candidates for office, or political parties, and any use of the League of Women Voters name in campaign advertising or literature has not been authorized by the League.