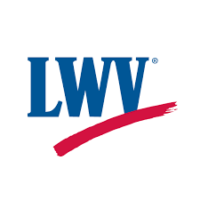 League of Women Voters of the Charlottesville Area
"The League of Women Voters, a nonpartisan political organization, encourages informed and active participation in government, works to increase understanding of major public policy issues, and influences public policy through education and advocacy."
LWV CVA Firearms Safety Committee
Maggie Hoover and Natalie Testa, Co-Chairs
This recently organized committee is a local adjunct of the LWV of Virginia's Firearms Safety Task Force. The goal of the committee is to support sensible firearm legislation by educating our community on the prevalence of gun violence; sponsoring community forums; writing "Letters to the Editor;" lobbying our local and state legislators for firearms safety legislation; and working with other groups such as Moms Demand Action. We welcome additional members who are interested in this crucial topic. Please contact Natalie Testa by email: natesta@embarqmail.com.
League of Women Voters
of the Charlottesville Area
Mailing Address:
PO Box 2786
Charlottesville, VA  22902
Email:  lwv@lwv-cva.org
© 2020 LWV CVA. All Rights Reserved.
The League of Women Voters never supports or opposes candidates for office, or political parties, and any use of the League of Women Voters name in campaign advertising or literature has not been authorized by the League.