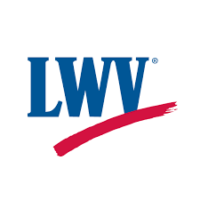 League of Women Voters of the Charlottesville Area
"The League of Women Voters encourages informed and active participation in government, works to increase understanding of major public policy issues, and influences public policy through education and advocacy."
LWV CVA Firearms Safety Committee
Maggie Hoover and Beth Alley, Co-Chairs
Organized in 2019, this committee is a local adjunct of the LWV of Virginia's Firearms Safety Task Force.  The goal of the committee is to support sensible firearm legislation by educating our community on the prevalence of gun violence; sponsoring community forums; writing "Letters to the Editor;" lobbying our local and state legislators for firearms safety legislation; and working with other groups such as Moms Demand Action.  We welcome additional members who are interested in this crucial topic. Please contact Maggie Hoover by email: maggie.hoover@gmail.com.
As presented in the 2020 LWV CVA  Annual Meeting packet, here is the 2019-20 report of the Firearms Safety Committee:
Firearms Safety Committee Report by Maggie Hoover and Beth Alley
The Firearms Safety Committee had an active and celebratory year with the passage of 7 out of 8 of bills that were the Governor's priorities.  Even though some may be more "watered down" than proposed it is a great accomplishment after decades of harmful legislation and failed efforts for sensible gun laws.
In pursuit of this goal our committee has been collaborating with other firearm safety groups in the Charlottesville area and across the state. We have conducted public postcard campaigns to promote the Governor's priorities for gun safety as presented in the special session of the General Assembly that was called last summer following the horrific mass shooting in Virginia Beach.  We traveled down to Richmond on a chartered bus in support of this special session, spoke to members of the media and our elected officials.  This special session of the General Assembly ended very abruptly when legislators failed to even consider hearing arguments.  To follow up, we sent editorials to newspapers, and expressed our support in local government meetings.  Our second scheduled bus trip was to be the 28th annual rally on Martin Luther King Day.  This rally had an ironic and dramatic twist this year.  Despite much planning on the part of many proponents for gun violence prevention throughout the Commonwealth, our access to free speech was denied when counter demonstrations from the Virginia Citizens Defense League showed up massively armed and caused the Governor to declare a State of Emergency at the capital.  Thanks to additional publicity, this turned into a media opportunity and a press statement from the League and others went national and the need for sensible gun legislation became that much more evident.
In addition to our legislative activities, our committee has been actively working to educate ourselves and the community at large.  The first of these has been accomplished by bringing in outside speakers, attending public events, sharing articles and reading books.  Our community outreach has involved our second year of participation in a program sponsored by the Brady Center and the American Academy of Pediatrics called "ASK" (Asking Saves Kids) by passing out brochures in the downtown Charlottesville area.  This program encourages parents to ASK if there is an unlocked gun in the homes where their children play. This year we broadened this educational outreach by using coloring sheets and temporary tattoos to expand the conversations with children and their parents about specific gun safety practices they could implement in their homes.  We continue to wear orange on June 1 (National Gun Violence Awareness Day), an annual event to draw attention to shooting victims. Orange is a color traditionally used to evoke safety. One of our most moving and meaningful events, is a public "Vigil" held in early December on the anniversary of Sandy Hook.  This "Vigil" is a Coalition activity and is a quiet thoughtful reflection on magnitude of the senseless losses that happen daily due to gun violence.
League of Women Voters
of the Charlottesville Area
Mailing Address:
PO Box 2786
Charlottesville, VA  22902
Email:  lwv@lwv-cva.org
© 2023 LWV CVA. All Rights Reserved.
The League of Women Voters never supports or opposes candidates for office, or political parties, and any use of the League of Women Voters name in campaign advertising or literature has not been authorized by the League.