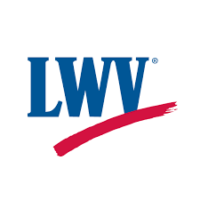 League of Women Voters of the Charlottesville Area
"The League of Women Voters encourages informed and active participation in government, works to increase understanding of major public policy issues, and influences public policy through education and advocacy."
Mark Your Calendars!
June is a busy month for the LWV CVA starting with:
WEAR ORANGE JUNE 2, 3 AND 4!  June is National Gun Violence Awareness Month. Every day, more than 300 people are directly impacted by gun violence in the United States (Brady May 2023).  To bring awareness to this senseless violence June 2, 3 and 4 are designated as WEAR ORANGE DAYS.  Wearing orange honors Hadiya Pendleton and all those impacted by gun violence.  Hadiya performed with her high school majorette squad at President Obama's second inaugural parade.  Just one week later she was shot and killed in Chicago.  Hadiya's friends asked others to wear orange to raise awareness about gun violence.
A Charlottesville Wear Orange Gun Violence Awareness Community Event will be held June 3 from 10:00 p.m. to 2:00 p.m. at Mt. Zion First African Baptist Church sponsored by The Charlottesville/Albemarle Moms Demand Action, the B.U.C.K Squad and other community partners to honor victims and survivors of gun violence.  Click here for more information.
LWV-VA Convention – June 3 – 4, Williamsburg. Click here for convention information.  Contact LWV CVA President Meg Heubeck if you plan to attend.  Email:  mfh2n@virginia.edu
LWV CVA and Veterans for Political Innovation – Will host an informational forum on Ranked Choice Voting. Monday, June 5, 7 pm, Northside Library; and Tuesday, June 6, 7 pm, Central Library. RSVP See the June eVoter above for QR Code. – Click on the drop down "Member Newsletter" – on this website.
LWV CVA Gun Violence Prevention Committee – Tuesday, June 6, 2 pm, County Office Building – Lane Auditorium. Support appeal of Albemarle County Zoning decision that would allow a firearm business in a private home in rural Albermarle.  Contact Maggie Hoover, Gun Violence Prevention Committee chair:  maggie.hoover@gmail.com
LWV CVA with the Senior Statesmen – Will host a forum for the 5th District candidates – June 20 primaries on Wednesday, June 14 – The Senior Center. Contact Susan Roberts for more information, email susanrofva@aol.com
LWV CVA Board of Directors Retreat – Greencroft Club (Rte 250 – Ivy Rd) on Thursday, June 15, 9 – 4 pm.
LWV CVA International Relations/Federal Gov't Meeting – In-person meeting on Wednesday, June 21, noon, at the home of Diane Skalak, 1880 Browns Gap Turnpike, Charlottesville, VA 22901. For more information, contact Rice Wagner, email: ricew123@icloud.com
League of Women Voters
of the Charlottesville Area
Mailing Address:
PO Box 2786
Charlottesville, VA  22902
Email:  lwv@lwv-cva.org
© 2023 LWV CVA. All Rights Reserved.
The League of Women Voters never supports or opposes candidates for office, or political parties, and any use of the League of Women Voters name in campaign advertising or literature has not been authorized by the League.