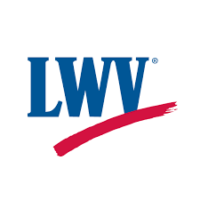 League of Women Voters of the Charlottesville Area
"The League of Women Voters encourages informed and active participation in government, works to increase understanding of major public policy issues, and influences public policy through education and advocacy."
Safe and Secure Ballots: What Voters Need to Know.
"Voting Security" is a hot topic during election season. Now with 24-hour news cycles and social media, information relayed to the public can be founded or unfounded or just plain false.  How can voters tell what goes on in their city or county to make sure all ballots are counted securely and carefully?
To help us understand voting security, LWV CVA held a Sunday Seminar on September 12 in Central Library, Charlottesville.  We invited two speakers who are election officials from Albemarle County and Charlottesville City to describe to us what the voting process actually entails.  Jake Washburne, General Registrar of Voters, Albemarle County, has been the County Registrar for over 15 years, and is responsible for implementing requirements of state and federal voter registration and elections law for 71,000+ registered voters, voting in the 28 County voting precincts.  Taylor Yowell is Acting Director of Elections and General Registrar for the City of Charlottesville and serves the city's approximately 34,000 voters in four wards with nine voting precincts.  Both registrars will show us what voting security looks like in their jurisdictions from registration to counting of ballots.
We are delighted to present here an audio recording of this event with many thanks to Sean Tubbs (seantubbs@gmail.com) who kindly provided this link.  Please click on:

For more information about this event, contact Lisa Hilgartner, LWV CVA Community Engagement Director, 434-466-9960.  Or email:  lisamezzo@gmail.com
League of Women Voters
of the Charlottesville Area
Mailing Address:
PO Box 2786
Charlottesville, VA  22902
Email:  lwv@lwv-cva.org
© 2021 LWV CVA. All Rights Reserved.
The League of Women Voters never supports or opposes candidates for office, or political parties, and any use of the League of Women Voters name in campaign advertising or literature has not been authorized by the League.