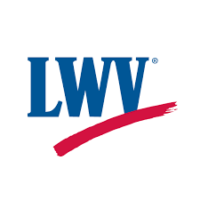 League of Women Voters of the Charlottesville Area
"The League of Women Voters encourages informed and active participation in government, works to increase understanding of major public policy issues, and influences public policy through education and advocacy."
It's Time for Program Planning! Saturday, Dec 4, 10 am to Noon.
What is "Program Planning"?   Program Planning happens annually at the local League level and this year it will be an "in-person" event at the Brooks Family YMCA (McIntire Park) on Saturday, December 4, from 10 am to noon. 
Program Planning is the time when we consider the positions taken by our League on the local and state or national levels. Our positions give the League a voice and are the result of an established process: the LWV takes action on an issue or advocates for a cause when there is an existing League position that supports the issue or speaks to the cause.  Without a position, League action/advocacy cannot be taken.  This is what your League of Women Voters is all about and Program Planning is your opportunity to weigh in.
For 2021-22, we will study Local and National League positions in preparation for our May 12, 2022 LWV CVA Annual Meeting as well as the June LWV-US convention.  Do we wish
to retain current positions;
to act on them; and/or
begin new studies with the goal of establishing consensus and positions for action on other issues?
To prepare for our 2021 meeting, check out our Local Program:  Positioned for Action as described in the LWV CVA 2021-2022 Membership Handbook [green cover].  On pages 15 -20, you will find "Action" items on: Government, Natural Resources, and Social Policy.  (These positions can also be found on this website:  lwv-cva.org under the pull-down menu, "Explore the League" – Advocacy, then click on "Local.")  LWV CVA Vice-President Carol Cutler recommends that you read the Program section (pages 15-20) of the LWV CVA 2021-22 Membership Handbook before you come to the meeting.
To check out the LWV-US national positions, go to https://www.lwv.org/impact-issues.  This is the link to "Impact on Issues:  A Guide to Public Policy Positions, 2020-22".  A summary of the League's public policy positions can be found on this LWV-US link:  https://www.lwv.org/sites/default/files/2018-05/impact_on_issues_2016-2018_positions_in_brief.pdf.

For further information about Program Planning, contact Carol Cutler, 434-293-2463 or email:  gertrude3@icloud.com.
League of Women Voters
of the Charlottesville Area
Mailing Address:
PO Box 2786
Charlottesville, VA  22902
Email:  lwv@lwv-cva.org
© 2021 LWV CVA. All Rights Reserved.
The League of Women Voters never supports or opposes candidates for office, or political parties, and any use of the League of Women Voters name in campaign advertising or literature has not been authorized by the League.