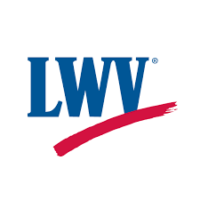 League of Women Voters of the Charlottesville Area
"The League of Women Voters encourages informed and active participation in government, works to increase understanding of major public policy issues, and influences public policy through education and advocacy."
It's Time to Get Out the Vote!
Why vote?  Virginia holds elections every June and November and this year our ballot has an important state-wide gubernatorial election and members of the House of Delegates along with many local races for city council members, county boards of supervisors, school board members, and other town positions.  Even the best-intentioned voter who understands the power vested in the elected office holder may have a hard time finding exactly what is on his or her ballot. Often this leads to voter apathy.  But if we've learned nothing else from the elections of the past decade, voting is the heart of our democracy, and we need all citizens who are eligible to cast a ballot to inform themselves and vote.  What does it take?
First, make sure you are registered to vote. If you have recently moved from another state or another part of the Commonwealth, you will need to register or change your registration to the voting district where you reside.  You must have turned 18 on or before the next general election to be able to register to vote. If you obtained a driver's license when you were 16, you were not automatically registered to vote. You can verify this and apply online by going to www.elections.virginia.gov OR by going to your local registrar's office:
Where and How to Register?  Deadline to Register is October  12, 2021
Voters can apply in person or call your local Registrar's office:
Albemarle County    1600 5th St Extended, Charlottesville 22902      434 972 4173
Charlottesville           120 7th St NE #142 City Annex 22902           434 970 3250
Fluvanna County       265 Turkeysag Trail, Suite 115, Palmyra 22963     434 589 3593
Greene  County         32 Stanard St, Stanardsville 22973             434 985 5213
Louisa County            1 Woolfolk Av, Louisa 23093                       540 967 3427
Nelson County           571 Front St, Lovingston 22949                 434 263 7190
Apply "Online" at elections.virginia.gov
Second, find out who and what's on your ballot. It's important to know what government posts are up for the election and if there are any referendums or constitutional amendments that will appear on the ballot. This can be done by going to VOTE411.org, or elections.virginia.gov, or going to your local registrar's office's website to see a sample ballot.
[Note:  In the candidates' list below, * signifies incumbent]
Office of Virginia Governor:

Terry R. McAuliffe (Democratic)   
Glenn A. Youngkin (Republican)              
Princess L. Blanding (Liberation)
Office of Lieutenant Governor:
Hala S. Ayala (Democratic)               
Winsome E. Sears (Republican)  
Office of Attorney General:
Mark R. Herring (Democratic) *
Jason S. Miyares (Republican)
Office of House of Delegates:
20th District:
Randall K. Wolf (Democratic) 
G. John Avoli (Republican) *
25th District:                                                         
Jennifer L. Kitchen (Democratic)           
Chris S. Runion (Republican) *
56th District
Blakely K. Lockhart (Democratic)
John J. McGuire III (Republican) *
57th District: 
Sally L. Hudson (Democratic) *
Philip Andrew Hamilton (Republican)
58th District
Sara H. Ratcliffe (Democratic)
Robert Bernard Bell III (Republican) *
59th District
Benjamin A. Moses (Democratic)
Matt Fariss (Republican) *
Also on the ballot:  Local Elections which may include City Council, Board of Supervisors, School Boards, and Town Officers:   See "Sample Ballot" for your precinct on your local registrar's website.   [See website addresses below.]
Check out YOUR Sample Ballot by going to your registrar's website at these Charlottesville Area government websites and clicking on "Voting" or "Registrar":
Albemarle County:  www.albemarle.org
Charlottesville City:  www.charlottesville.gov
Fluvanna County:  www.fluvannacounty.org
Greene County:  www.greenecountyva.gov
Louisa County:  www.louisacounty.com
Nelson County:  www.nelsoncounty-va.gov
Or go to the League of Women Voters Election Information website:  www.Vote411.org
WHY VOTE?  Third, and this is an important step, find out the duties and power these positions have so that you can understand how decisions made by that elected office holder can affect your job, and your life and those of your family and friends.  What can a governor do? What is the role of Lieutenant Governor? Just what does a Supervisor on the local Board of Supervisors do?  It has been proven to be true that decisions made on the state or local levels have more impact on our day to day lives than federal government decisions.  [A good resource is the latest book by David Toscano, Fighting Political Gridlock [Univ. of Virginia Press, 2021].  In his book, Toscano, a former Charlottesville City Councilor, and Virginia Delegate to the Virginia General Assembly, describes how states shape our nation and our lives.]
Finally, think of the issues that are important to you. Check out the positions that each candidate has. If they have a position on an issue that is dear to you, see if they have a specific plan for what they intend to do. If funding is needed for this, what funds will they use for it?  Be wary of generalizations, or shallow promises. Check voting records for incumbents and campaign promises. Check out the positions of new candidates. These are often found at Vote411.org or on the candidate's website, Facebook page, Instagram account, or other media platform. Attending forums or debates, tuning in when they are televised, or later catching them on YouTube are other ways to find out more about the candidates. Engage in civil discussions with other voters. Don't rely on friends or political endorsements to make the decision for you. Their reasons for endorsements may not be in your best interest.
What Issues Concern You?
Pandemic Health Safety Mandates       
Taxes           
 Road Construction and Maintenance
 Zoning and Affordable Housing         
Business Licensing and Regulations
 Climate Change     
Public Lands and Natural Resources          
Land Use
 Firearms      
Alcohol and Drug Regulations         
 School Standards and Regulations
 From Governor to General Assembly Delegates to Boards of Supervisors to School Boards –
State and Local Government Officials Decide These for You!
VOTE EARLY Sept 17 – Oct 30
AT YOUR CITY/COUNTY REGISTRAR'S OFFICE
Or on Election Day, TUESDAY NOVEMBER 2:  Polls open 6am to 7 pm
League of Women Voters
of the Charlottesville Area
Mailing Address:
PO Box 2786
Charlottesville, VA  22902
Email:  lwv@lwv-cva.org
© 2021 LWV CVA. All Rights Reserved.
The League of Women Voters never supports or opposes candidates for office, or political parties, and any use of the League of Women Voters name in campaign advertising or literature has not been authorized by the League.