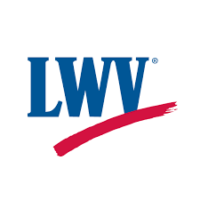 League of Women Voters of the Charlottesville Area
"The League of Women Voters, a nonpartisan political organization, encourages informed and active participation in government, works to increase understanding of major public policy issues, and influences public policy through education and advocacy."
Meet Pat Cochran – Our New LWV CVA President
Pat Cochran, our newly elected President, is relatively new to the League of Women Voters but certainly not new to community service. Pat says that a full life including motherhood has afforded her with many volunteer opportunities along the way. She held the elected position of "Library Trustee" in Milton, Massachusetts, and "chaired" the board of trustees of the Village School also in Milton.
Her career as a Certified Registered Nurse Anesthetist spanning more than 40 years included many venues of participation in teaching and research in the field of anesthesia and afforded her a birds-eye view of the ever evolving roles of women in medicine.
Since retiring in 2015, she and her husband Gordon Matthew have worked via JABA to introduce and implement the international program "Music & Memory" at Mountainside Senior Living Memory Care Unit.
Pat also enjoys the wonders of being a grandparent to six "perfect" grandchildren.
Pat's term of office officially begins July 1, 2018, and goes to June 30, 2020. Welcome Pat !
League of Women Voters
of the Charlottesville Area
Mailing Address:
PO Box 2786
Charlottesville, VA  22902
Email:  lwv@lwv-cva.org
© 2020 LWV CVA. All Rights Reserved.
The League of Women Voters never supports or opposes candidates for office, or political parties, and any use of the League of Women Voters name in campaign advertising or literature has not been authorized by the League.