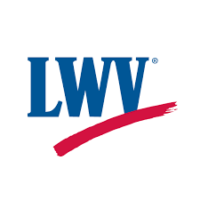 League of Women Voters of the Charlottesville Area
"The League of Women Voters, a nonpartisan political organization, encourages informed and active participation in government, works to increase understanding of major public policy issues, and influences public policy through education and advocacy."
Albemarle County Board of Supervisors has put Climate Change Action at the top of their list of special topics of concern, for this year. On Mondays, specific topics are discussed with the public. Climate deniers already know about the series and are in attendance. You'll learn a lot and you may be able to counter-balance others' opinions. Here is a link to Climate Monday events. https://www.albemarle.org/upload/images/Forms_Center/Departments/Climate_Action/Forms/Climate%20Mondays%204-29.pdf
Here is the schedule for July:
• July 8: Commercial and Residential Building Redevelopment;
• July 15: Local Government Buildings and Fleet Vehicles;
• July 22: Feedback Summary, Part One – Sustainable Materials Management, Natural Resources Emissions Sectors, and Education/Outreach;
• July 29: Feedback Summary, Part Two – Buildings, Transportation and Renewable Energy.
All "Climate Change Mondays" meetings begin at 5:30 PM in room 235 at the County Office Building, 401 McIntire Road.
For additional information, contact Muriel Grim, 740-818-7179, LWV CVA Natural Resources Committee.
League of Women Voters
of the Charlottesville Area
Mailing Address:
PO Box 2786
Charlottesville, VA  22902
Email:  lwv@lwv-cva.org
© 2019 LWV CVA. All Rights Reserved.
The League of Women Voters never supports or opposes candidates for office, or political parties, and any use of the League of Women Voters name in campaign advertising or literature has not been authorized by the League.