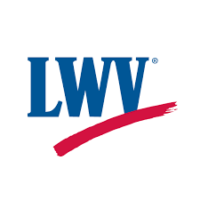 League of Women Voters of the Charlottesville Area
"The League of Women Voters, a nonpartisan political organization, encourages informed and active participation in government, works to increase understanding of major public policy issues, and influences public policy through education and advocacy."
LWV CVA Sunday Seminar – Held February 21: "How's Our Water and Who's Paying Attention to It?"
At the LWV CVA Sunday Seminar on February 21, 2 – 4 pm,  the Natural Resources Committee introduced some of the people who are taking care of the Charlottesville area's water.
Two decades ago the LWV CVA produced "Water in the New Millennium," a report that described the state of the area's water supply system and recommended steps to guarantee an adequate future supply of safe drinking water.  Now we are taking a bird's-eye look at what is being done to protect our water from the time it falls onto the local watersheds, with some of that becoming our drinking water, until it makes its way to the Chesapeake Bay and Atlantic Ocean.
Water is vital to sustaining life on earth.  As stewards of our natural resources we are obligated to take care of this most precious resource.  Locally there are many people, organizations, and government agencies that work to keep our water safe and sustainable.  At our February Sunday Seminar some of them gave brief descriptions of how they are addressing problems and/or challenges facing the area's water.
A YouTube video ot the Sunday Seminar can be viewed here:  https://youtu.be/YVopZ471L9s.  Information about the speakers, their organizations and their topics can be found by clicking Information Packet.   A list of these and other water stewards can be found by clicking Friends of Water.  Also posted are some Upcoming Water Related Events that were noted at the seminar.  One upcoming special event presented by Nesha McRae TMDL Coordinator, VA DEQ Valley Regional Office:  2021 Drinking Water Clinic. "Learn about your water quality through affordable, confidential testing and become empowered to make decisions about system maintenance and water treatment!"  To register go to:  2021 DRINKING WATER REGISTRATION INFO.
For more information about this Seminar, contact Muriel Grim, msgrim2012@gmail.com
League of Women Voters
of the Charlottesville Area
Mailing Address:
PO Box 2786
Charlottesville, VA  22902
Email:  lwv@lwv-cva.org
© 2021 LWV CVA. All Rights Reserved.
The League of Women Voters never supports or opposes candidates for office, or political parties, and any use of the League of Women Voters name in campaign advertising or literature has not been authorized by the League.