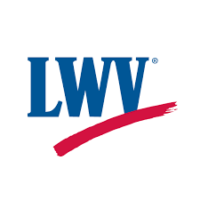 League of Women Voters of the Charlottesville Area
"The League of Women Voters encourages informed and active participation in government, works to increase understanding of major public policy issues, and influences public policy through education and advocacy."
LWV CVA Sunday Seminar: "Reviving Democracy: Election Reform in Virginia"
LWV CVA Sunday Seminar, Held November 18, 2 – 4 pm, CitySpace, Downtown Mall, Charlottesville.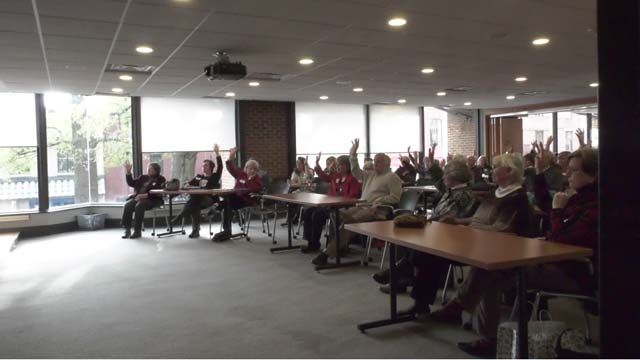 In an era of divisive politics, voters are hungry for concrete proposals to promote more competitive and representative elections. Virginia has several potential reforms coming to its General Assembly in January 2019.  On Sunday, November 18, the League of Women Voters of the Charlottesville Area held a seminar about election reform ahead of some anticipated political change in the commonwealth.
"After such an exciting election, I think there's room for improvement in the process," Pat Cochran, the president of League of Women Voters of the Charlottesville Area, said.
Speakers at the seminar discussed key bills that will be up for debate this legislative season. They also talked about alternative voting systems, like ranked-choice voting.  "You don't just vote for one candidate," Sally Hudson, the founder of FairVote Virginia, said. "You get to rank the candidates from your most to least favorite."
The seminar also touched on campaign finance reform.  "Increasingly, actually, in the last five to 10 years, money has been spent at the state level to influence policy more," Ryan Snow, a lawyer, said.
Sunday's event was held to help ensure voters know what will be on the political table in the coming years.
"We want everybody to be informed and participate in our democracy, and this is an expression of our attempt to educate people about alternative voting systems to what we have today," Cochran said.
The speakers say getting more involved in politics now can have a big impact in the future.  "In January, all of our state senators and delegates will go back to Richmond and they'll be there to discuss reforms just like this," Hudson said. "And then in 2019, all of their seats will be up for grabs in the state elections and so now is the time to both get involved with the legislative session and to make sure that the people who will be representing you in the future stand for these kinds of exciting issues."
Event organizers encourage everyone to get out and vote in 2019.  Cochran says those new voting systems could go a long way to help more people participate in the election process.
League of Women Voters
of the Charlottesville Area
Mailing Address:
PO Box 2786
Charlottesville, VA  22902
Email:  lwv@lwv-cva.org
© 2018 LWV CVA. All Rights Reserved.
The League of Women Voters never supports or opposes candidates for office, or political parties, and any use of the League of Women Voters name in campaign advertising or literature has not been authorized by the League.