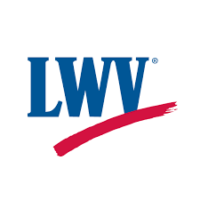 League of Women Voters of the Charlottesville Area
"The League of Women Voters, a nonpartisan political organization, encourages informed and active participation in government, works to increase understanding of major public policy issues, and influences public policy through education and advocacy."
Upcoming June 11 Primaries: Are You Registered to Vote?
2019 Voter Guide launched by Charlottesville Tomorrow gives complete information about the June 11 primary elections for the City of Charlottesville and Albemarle County including conversations with candidates in the various races:Go to: https://www.cvilletomorrow.org/articles/2019-voter-guide-launches-with-primary-races
Two forums were hosted by LWV CVA in April: On Thursday, April 18, for the candidates running for the 57th Virginia House of Delegates; and on Thursday, April 25, for the candidates running for three seats on the Charlottesville City Council. For a video of the April 18 forum, click on our Facebook page (icon at the bottom of the homepage of this website), and then select "Videos". For the April 25 city council candidates forum, copy this link and paste in your browser search: https://www.facebook.com/MichaelPayneCville/videos/418039039022877/
For complete information about upcoming primary elections in the City of Charlottesville: Next Election – Tuesday, June 11, 2019 – Democratic Primary to nominate candidates for City Council (3 seats) and House of Delegates member (57th District). If you have a question about whether or where you are registered, or where you vote, call the City Registrar at 434-970-3250. Or look up your own registration securely online at http://vote.virginia.gov (be sure to click "Charlottesville" as your locality so the system will find your matching information). There you will find:
Sample Ballot June 2019 Democratic Primary (PDF)
Plain Text Sample Ballot June 2019 Democratic Primary (DOC)
Official Order Calling June 2019 Party Primaries
List of Primaries Requested (by Office and Locality)
In person absentee voting begins in the Registrar's office (City Hall Annex, 120 7th Street NE, Room 142 Charlottesville, VA 22902) on Friday, April 26 for City of Charlottesville-registered voters. An acceptable voter photo ID and an absentee reason are required. If you do not have a photo ID for voting, we can make one for you here. Curbside voting is available at our office for City voters who are disabled, or who are age 65 or older and have a qualifying absentee reason. (Age alone is not a reason to vote absentee in Virginia.) If you have any questions, please us at 434-970-3250.
If you need an absentee ballot mailed to you, apply now at http://vote.virginia.gov. An absentee voting reason is required. Ballots will be mailed beginning no later than April 26. Mailed ballots must be returned to the office by mail or by the voter personally by 7:00 PM on election day, June 11, or they cannot be counted. Allow plenty of time to receive, vote and return your ballot. The deadline to apply for a mailed ballot is 5:00 PM on Tuesday, June 4, but voters waiting that late may not have time to complete the process. If you have any questions, please call our office at 434-970-3250. For more information see our Absentee Voting page.
For all Virginia elections: Are you a registered voter in Virginia? You can check your voter registration status and polling place at the Department of Elections website, www.elections.virginia.gov (or call 804 864-8901 or 800 552-9745, 8 am to 5 pm weekdays.) Or click on City of Charlottesville, or Albemarle County, Fluvanna County, Greene County, Louisa County, or Nelson County for information about voter registration, absentee voting, and elections in your area.
League of Women Voters
of the Charlottesville Area
Mailing Address:
PO Box 2786
Charlottesville, VA  22902
Email:  lwv@lwv-cva.org
© 2019 LWV CVA. All Rights Reserved.
The League of Women Voters never supports or opposes candidates for office, or political parties, and any use of the League of Women Voters name in campaign advertising or literature has not been authorized by the League.