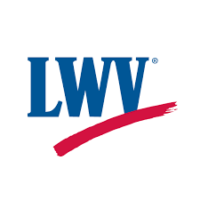 League of Women Voters of the Charlottesville Area
"The League of Women Voters, a nonpartisan political organization, encourages informed and active participation in government, works to increase understanding of major public policy issues, and influences public policy through education and advocacy."
LWV CVA Program Planning for 2020: Sunday, December 8, 1:30 – 4 pm, CitySpace
What is "Program Planning"? Program Planning happens annually at the local League level. It is the time when we consider the positions taken by our League on the local and state or national levels. Our positions give the League a voice and are the result of an established process: the LWV takes action on an issue or advocates for a cause when there is an existing League position that supports the issue or speaks to the cause. Without a position, League action/advocacy cannot be taken. This is what your League of Women Voters is all about and Program Planning is your opportunity to weigh in.
For 2019, we will study Local and National League positions in preparation for our May 2020 LWV CVA Annual Meeting as well as the June LWV US convention, this year in Washington, DC. Do we wish to retain current positions, to act on them, and/or to begin new studies with the goal of establishing consensus and positions for action on other issues? As part of this review, we will hear from committee members who will be suggesting updating current local program "Action" statements. Our recommendations from this meeting will be presented to our members for approval at the Annual Meeting in May.
Program Planning this year will be led by Carol Cutler, LWV CVA Vice-President, and Rosalie Simari, LWV CVA Membership co-chair. As part of the local program planning this year, there will be an update presentation on the Child Care study. In addition, the LWV CVA Natural Resources Committee has submitted a proposal to update our local Natural Resources position with a statement on Climate Change. Besides these Child Care and Natural Resources "Action" proposed revisions, there will be presentations on suggested revisions to Education, Government, Health Services in Public Schools, and Health and Family Life Education.
To prepare for our 2019 meeting, check out our Local Program as described in the LWV CVA 2019-2020 Membership Handbook. On pages 14 -18, you will find "Action" items on: Child Care, Education, Firearms Safety, Government, Health and Family Life Education, Health Services in Area Public Schools, Housing, Natural Resources (Energy, Land Use, Water, Waste Management), Regional Library System, and Transportation. (These positions can also be found here on our website: lwv-cva.org under the pull-down menu, "Explore the League" – Advocacy, then click on "Local.") Carol recommends that you read the Program section (pages 14-18) of the LWV CVA 2019-20 Membership Handbook before you come to the meeting—meeting time is short, there are many decisions to be made, and your advance preparation will make a real difference! For further information about Program Planning, contact Carol Cutler (434-293-2463 or gertrude3@icloud.com).
For LWV US positions, click here on the 2018-2020 issue of LWV 2018-20 Impact on Issues for a complete pdf copy. LWV US has alerted us to a proposed change to "Representative Government/Electoral Process" (see page 10 in "Impact on Issues" for the description of this position.) We plan to have a "League Concurrence" program on this position at a January or February Sunday meeting in 2020 with more information coming in the January newsletter.
We hope that all members will attend Program Planning on Sunday, December 8, 2019, at CitySpace, Charlottesville Downtown Mall (parking in the adjacent Market Street parking garage). Doors open at 1:30 pm and the meeting will begin promptly after that.
League of Women Voters
of the Charlottesville Area
Mailing Address:
PO Box 2786
Charlottesville, VA  22902
Email:  lwv@lwv-cva.org
© 2019 LWV CVA. All Rights Reserved.
The League of Women Voters never supports or opposes candidates for office, or political parties, and any use of the League of Women Voters name in campaign advertising or literature has not been authorized by the League.