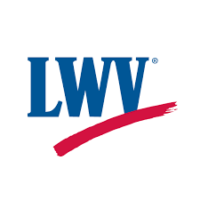 League of Women Voters of the Charlottesville Area
"The League of Women Voters, a nonpartisan political organization, encourages informed and active participation in government, works to increase understanding of major public policy issues, and influences public policy through education and advocacy."
LWV CVA Sunday Seminar: Gun Violence Prevention – Legislative Update – March 14, 2 – 3 pm.
Last year's Virginia 2020 General Assembly passed significant gun violence protection legislation that, as a result, makes Virginia a safer place to live.  Despite these great strides, however, there was still work to be done.  Ghost guns (guns that do not have serial numbers) should be banned, guns should be taken away from domestic violence abusers, and banning guns from polling places were just a few of the bills considered in the 2021 session.
For an update on these and other bills passed by the 2021 General Assembly, please join us on March 14 for a presentation by Andrew Goddard.  Andy is the Legislative Director of the Virginia Center for Public Safety and an active advocate for sensible gun legislation.  Andy will also provide background on issues and welcomes questions.
The LWV-CVA Firearm Safety Committee and the Charlottesville Coalition of Gun Violence Prevention are sponsoring this Zoom presentation.  Please email your questions prior to the presentation to maggie.hoover@gmail.com.  During the presentation you will have an opportunity to ask questions using the "chat" feature in Zoom.
This is a free online event:   
To Join the Zoom Sunday Seminar on March 14, 2 – 3 pm.  Click here on "Tickets" and register!
Or copy and paste this link in your browser to get your free Eventbrite "Ticket":  https://www.eventbrite.com/e/gun-violence-prevention-legislative-update-with-andrew-goddard-tickets-143455564455
The link to join will be emailed to ticket registrants prior to the event. 
Questions, comments?  Email the League of Women Voters of the Charlottesville Area:  lwv@lwv-cva.org.

League of Women Voters
of the Charlottesville Area
Mailing Address:
PO Box 2786
Charlottesville, VA  22902
Email:  lwv@lwv-cva.org
© 2021 LWV CVA. All Rights Reserved.
The League of Women Voters never supports or opposes candidates for office, or political parties, and any use of the League of Women Voters name in campaign advertising or literature has not been authorized by the League.