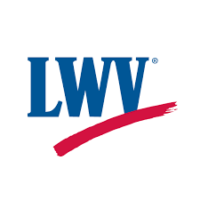 League of Women Voters of the Charlottesville Area
"The League of Women Voters, a nonpartisan political organization, encourages informed and active participation in government, works to increase understanding of major public policy issues, and influences public policy through education and advocacy."
LWV CVA Annual Fundraising Drive Launched for 2021!
Dear League Members-
In the coming weeks, you will receive the LWV CVA 2021 Finance Drive fundraising campaign letter in the mail.  (If you have already contributed to this year's finance drive during our "early-bird" invitation, then you should not receive the letter.)  Please know that your donations help us to fulfill our mission to register citizens to vote and to educate citizens about the issues on which they cast their votes.
It's easy to donate to the LWV CVA. You can write a check either to LWV or to the LWV CVA Education Fund, & mail to:
Anne Claar, LWV CVA Treasurer
3 Stigger Rd
Palmyra, VA 22963
Or, you can scroll down to the bottom of this homepage and click on the 'Donate' button. You will then have the choice of giving to the Operating Fund [not deductible] or to the Education Fund [tax deductible]. A modest processing fee is deducted from online contributions.
These donations are not member dues. Those are payable in June, when we begin our fiscal year on July 1.

We welcome your support – Thank you for your consideration!
League of Women Voters
of the Charlottesville Area
Mailing Address:
PO Box 2786
Charlottesville, VA  22902
Email:  lwv@lwv-cva.org
© 2021 LWV CVA. All Rights Reserved.
The League of Women Voters never supports or opposes candidates for office, or political parties, and any use of the League of Women Voters name in campaign advertising or literature has not been authorized by the League.