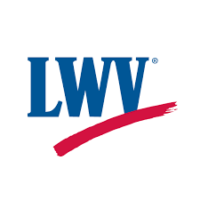 League of Women Voters of the Charlottesville Area
"The League of Women Voters, a nonpartisan political organization, encourages informed and active participation in government, works to increase understanding of major public policy issues, and influences public policy through education and advocacy."
LWV CVA Sunday Seminar April 18, 2 – 4 pm: "Women in Prison – A Problem NOT a Solution!"
A Panel Discussion with
National Perspective:   Aleks Kajstura, Legal Director, Prison Policy Initiative, and  Author of Women's Mass Incarceration:  The Whole Pie
Virginia Perspective:  Claire Guthrie Gastanaga, Executive Director, ACLU of Virginia; Virginia response to Kajstura's study:  Women in the Criminal Justice System
Local Perspective:  Areshini Pather, Deputy Commonwealth Attorney
Keeping women out of Virginia's jails and prison should not be hard, all things considered. But all things are often neither considered nor supported. That's one quixotic situation members of the LWV CVA Justice Reform Committee were challenged with as they planned the League's April 18 Sunday Seminar.  In search of deeper understanding and momentum for systemic change, the seminar will draw together influential national, state and local justice advocates to underscore the reality of women caught up in the criminal justice system.
Aleks Kajstura's research produced Women's Mass Incarceration: The Whole Pie, a troubling study of 231,000 women and girls incarcerated in the US. In tandem, the Virginia ACLU led by Claire Guthrie Gastanaga launched Women in the Criminal Justice System focused on Virginia. In Charlottesville, Deputy Commonwealth Attorney Areshini Pather, formerly a public defender, knows firsthand the anguish sentencing brings down on women and their families.                                                                                                           
When 73% of women in conflict with the law are incarcerated for nonviolent offenses, why are they in jail instead of restorative community alternatives? What's needed in the realm of law, community services, treatment, support and funding to keep at-risk women safely and restoratively in the community with their families. In Charlottesville there are services and alternatives to incarceration for women, but apparently not enough are readily available to engage all women at risk. In the surrounding counties which are members of the Charlottesville Area League, options appear fewer.
The ACLU report notes: The over-incarceration of women is a symptom of a complex network of social barriers, economic inequality, reproductive injustice, and racial and sexual discrimination deeply woven into our society.
The targeted focus on justice reform and groundbreaking action in the special legislative session in Richmond, invites communities to look more deeply at Virginia's local justice systems with thoughts on reform. The panel for the Sunday Seminar will aim to do just that. Join us for this important discussion.
This is an online event:    To Join the Zoom Sunday Seminar on April 18, 2 – 4 pm 
Click here on "Tickets" and register!
Or copy and paste this Eventbrite link to your browser:
https://www.eventbrite.com/e/women-in-prison-a-problem-not-a-solution-tickets-148499715647
The link to join will be emailed to ticket registrants prior to the event.
League of Women Voters
of the Charlottesville Area
Mailing Address:
PO Box 2786
Charlottesville, VA  22902
Email:  lwv@lwv-cva.org
© 2021 LWV CVA. All Rights Reserved.
The League of Women Voters never supports or opposes candidates for office, or political parties, and any use of the League of Women Voters name in campaign advertising or literature has not been authorized by the League.